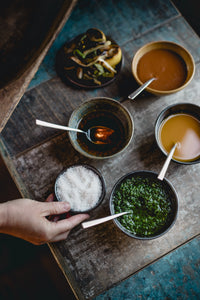 Like your favorite pair of jeans, our pieces are tailored to your lifestyle - simple, classic and versatile. Our potter, Ashley Pfannenstiel (fan-in-steel), has considered the way each piece will fit into your life. A mug that warmly cups your hand, bowls that stack easily in your cupboards, the details are what make each piece unique. In use, our pieces highlight your favorite recipes and complement any meal. At rest and on display, our work radiates a quiet, confident beauty. At ease in a country cabin or an urban loft, our well crafted pieces feel like home.   
Each piece is made by caring human hands, so each piece is formed ever so slightly different than the next. As well, each glazed piece goes into our kiln where the fire dances inside its walls all thru the night. You've seen fire dance, it gets funky. We revel in all this and you will too when you find that mug that fits your hand just right or that incredible depth of color that the fire's dance twirled upon your pot.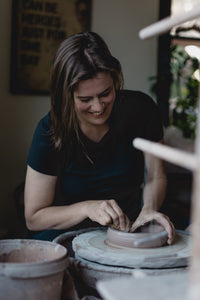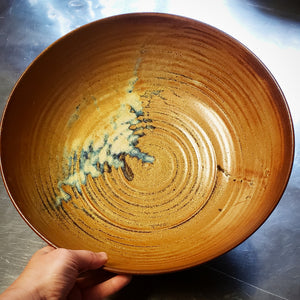 If you are looking for a bowl that looks just like the next one, with precise dimensions and exact color match, we humbly direct you to your nearest shopping mall. If you want to feel the connection of the well-intentioned hands that created your wineglass, or discover a new feature each time you get to the bottom of that cereal bowl, then we welcome you to find your happy place amongst our wares. We are so grateful to our customers for valuing artists, for their patience and respect for our process, and for seeking that place off the beaten path.  
visit our spring green studio and store
E6101 County Road WC
Spring Green, WI 53588
OPEN DAILY
10am - 6pm